This week I want to highlight two articles about pain management. The first one reviews how opioids are being addressed with federal employees. The second article provides an outline of why non-pharmacological approaches to treating pain need to be considered. Below you'll find these articles and my thoughts on their implications.
Disclaimer: The views and opinions expressed below are those of Mark Pew, Senior Vice President of Product Development and Marketing, and do not necessarily reflect the views of Preferred Medical.
The opioid epidemic has been a major issue in today's society—one that many are working hard to overcome and find a solution for. One component of that is figuring out when opioids should be prescribed for pain. Over the past two years the U.S. Department of Labor's Office of Workers' Compensation Program has implemented a four step plan to address that question with federal employees. Their progress, and methodology, is showing results.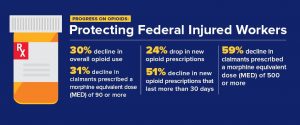 Mark's Thoughts:
"Since 2017, the U.S. Department of Labor's Office of Workers' Compensation Programs' (OWCP) has dedicated significant resources to stem the abuse, misuse, and proliferation of opioids to protect 2.7 million federal workers from harmful opioid prescription practices." This quote is extracted from an op-ed published by Alexander Acosta, U.S. secretary of labor. You can see the statistics in the graphic above that show how they've changed the culture. But another way they've changed the culture is thru their "Opioid Policy Four-Point
Strategic Plan":
Effective Controls
Tailored Treatment
Impactful Communications
Aggressive Fraud Detection
As I blogged about on 8/3/17, "Appropriate, Not Zero, Opioids," the goal is to find the proper balance in Rx opioid use. I'm a big fan of (2) and (3) above – tailored treatment (individualized) established via impactful communications (education). That is something that should be a goal regardless of the employer / payer.
Policy Brief: Never Only Opioids
The Academy of Integrative Pain Management created a policy brief about using non-pharmacological approaches to chronic pain management by providing multiple points of evidence for its effectiveness. The primary focus of the PAINS Project is to provide an outline of the issues, opportunities and potential solutions and they advocate for a balanced use of medicine and psychosocial approaches to treating pain. In summary, they recommend an approach that is individualized for each patient.
Mark's Thoughts:
"PAINS' mission is to transform the way pain is perceived, judged and treated." And so they published this whitepaper in Fall 2014 to argue "The Imperative for Non-Pharmacological Approaches and Practitioners in Pain Treatment." Check out the list of Non-Pharmacological Approaches they provide on pages 6-7 and the comprehensive list of References on page 5 and pages 7-8. Even more clinical reasons to include non-pharma approaches to pain (but not complete eradication of Rx opioids) have arisen since they published this but you get the idea … An individual's approach to managing chronic pain has to be individualized and all evidence-based options should be on the table. Take 10 minutes and read the entire document. "This is a unique, historic moment to capitalize on what we know works to effectively treat pain. It marks the beginning of a cultural shift in how health care is practiced in the military." The cultural shift is happening in every venue with big-picture payers and patients. But there are some that haven't bought in yet. They need to. Soon.
To read everything on my mind this past week, please visit me on LinkedIn at https://www.linkedin.com/pulse/marks-musings-may-20-mark-rxprofessor-pew/.
Until Next Week,