The articles I came across this past week can teach us a lot about taking care of our bodies. The first article is actually an infographic and showcases all the great benefits of cardiovascular workouts. The second, however, I bring you a sad story about yet another life taken from opioids. Below you'll find these articles and my thoughts on their implications.
Disclaimer: The views and opinions expressed below are those of Mark Pew, Senior Vice President of Product Development and Marketing, and do not necessarily reflect the views of Preferred Medical.
Cardiovascular exercise is excellent for your health. It decreases your blood pressure and your resting heart rate meaning your heart doesn't need to work as hard. Giving your heart a little break is good for your entire body. This infographic shows all the information you need to know about the benefits of taking part in cardiovascular exercise.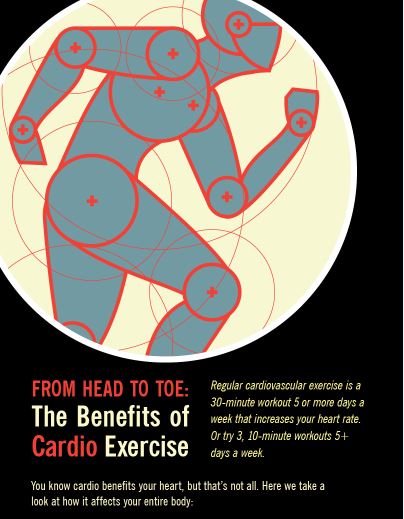 Mark's thoughts:
What they said…this is an excellent infographic on the benefits of a cardio workout, defined as "30-minute workout 5 or more days a week that increases your heart rate…or try 3, 10-minute workouts 5+ days a week." The benefits they list are to the brain, skin, blood, muscles, pancreas, lungs, weight, sexual function, bones & joints. But don't forget benefits in mood, anxiety and stress, energy and sleep. In other words, from head to toe. Don't feel bad if your level of activity doesn't currently qualify as a "cardio workout." But don't use that as an excuse to not do anything. Start small and build up. Eventually, you will become addicted to the endorphins that come from an active lifestyle.
On October 7, 2018 Madelyn Ellen Linsenmeir died from a long battle with drug addiction. She first tried OxyContin recreationally in high school and never overcame an addiction to opiates. This heartfelt obituary is written by her parents and describe the warm, fearless and resilient woman that Maddie was, despite many people seeing her only as a drug addict.
Mark's thoughts:
A brutally honest obituary, a trend of parents trying to make a difference for other children. Sad and uplifting at the same time. Demotivating and motivating. Deflating and powerful. As a parent I can't imagine writing something like this but I'm glad they did. It shows that Madelyn was loved in an unconditional and unwavering manner throughout her journey — her successes and failures, ups and downs, ins and outs. "She tried OxyContin for the first time at a high school party, and so began a relationship with opiates that would dominate the rest of her life." Unfortunately, this is a statement I've heard repeatedly and why I've been advocating so passionately for all of us to #CleanUpTheMess. These final statements are a true call to action for everyone:
If you are struggling from addiction, know that every breath is a fresh start. Know that the hundreds of thousands of families who have lost someone to this disease are praying and rooting for you. Know that we believe with all our hearts that you can and will make it. It is never too late.
If you are reading this with judgment, educate yourself about this disease because that is what it is. It is not a choice or a weakness. And chances are very good that someone you know is struggling with it and that person needs and deserves your empathy and support.
If you work in one of the many institutions through which addicts often pass — rehabs, hospitals, jails, courts — treat them with the compassion and respect they deserve, thank you. If instead you see a junkie or thief or liar in front of you rather than a human being in need of help, consider a new profession.
I thank Madelyn's family for sharing their story – her story – with the world. May it make us all more resolute in this battle to save lives.
To read everything on my mind this past week, please visit me on LinkedIn at https://www.linkedin.com/pulse/marks-musings-october-22-mark-rxprofessor-pew/.
Until next week,