Drug News from Preferred Medical …
On February 28, 2020 the FDA approved Advil® Dual Action that combines 250mg of acetaminophen and 125mg of ibuprofen into a single tablet. While over-the-counter (OTC) medications are not as prevalent at workers' compensation PBMs as prescription medications (including the prescription versions of acetaminophen and ibuprofen), this new all-in-one product might be a useful opioid alternative for some. As of June 1 GlaxoSmithKline has not yet made the product available nor published pricing but quick adoption is possible once it arrives at pharmacies, likely supported by direct-to-consumer advertising. Preferred Medical will certainly be monitoring its rollout and implications to work comp.
Going beyond the marketing message, is this new combo drug effective?
Acetaminophen (pain reducer that blocks the transmission of pain signals) and ibuprofen (an NSAID which helps stop processes that promote inflammation and pain) are different kinds of drugs that are cleared from the body by different organs. The list of potential side effects from ibuprofen is longer and potentially more dangerous (mostly to the stomach and kidneys) than acetaminophen (mostly to the liver). There are also daily dosage maximums (2400mg for ibuprofen and 4000mg for acetaminophen) that need to be monitored carefully. However, these two drugs have been used safely billions of times – individually and in alternating fashion for pain relief – since their creation (acetaminophen in 1951, ibuprofen in 1961). The FDA was obviously convinced by the evidence from seven clinical studies that combining them into a single tablet can provide more health benefit than using them separately.
Adding to that evidence is information presented by Dr. Don Teater at the Georgia SBWC conference on August 28, 2017. According to his presentation, evidence shows that a combination of ibuprofen (200mg) and acetaminophen (500mg) has almost double the efficacy of Percocet® (10mg oxycodone and 1000mg acetaminophen) and triple the efficacy of OxyContin® (15mg oxycodone). The graphic he used is below along with the references.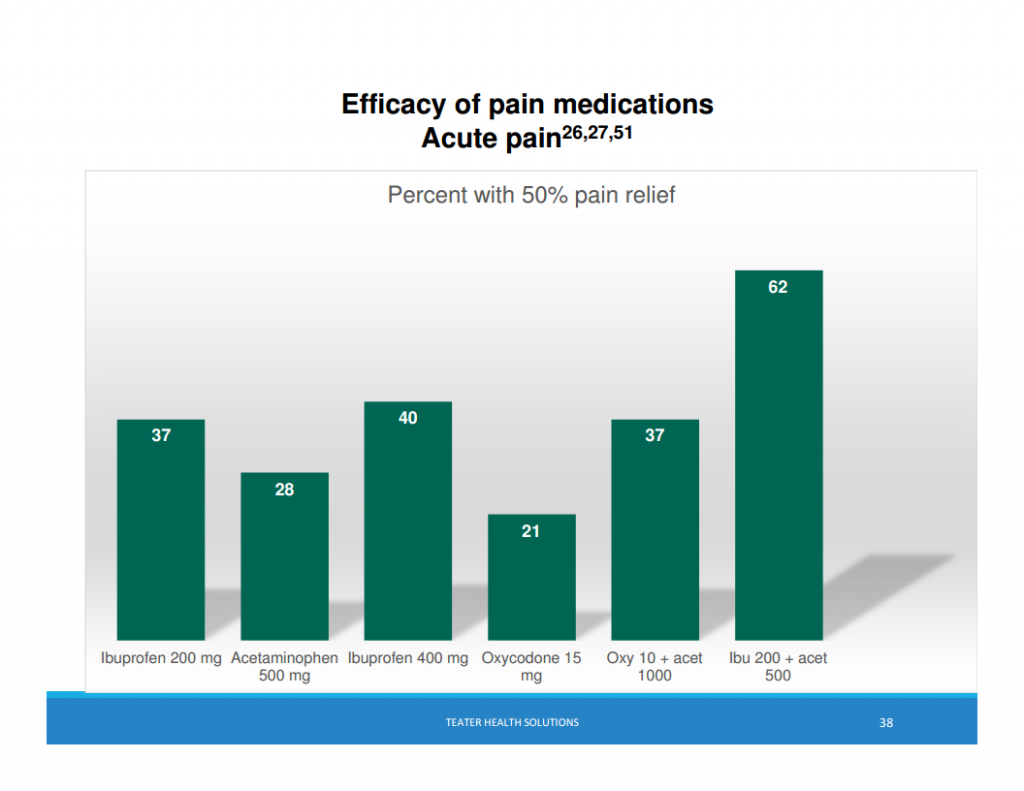 Teater D. Evidence for the Efficacy of Pain Medications. Itasca, Illinois; 2014. www.nsc.org/painmedevidence.
Moore RA, Derry S, McQuay HJ, Wiffen PJ. Single dose oral analgesics for acute postoperative pain in adults. Cochrane Database Syst Rev. 2011;9(9):CD008659. doi:10.1002/14651858.CD008659.pub2.
Derry, C., Derry, S., & Moore, R. (2013). Single dose oral ibuprofen plus paracetamol ( acetaminophen ) for acute postoperative pain ( Review ). Cochrane Database of Systemic Reviews, (6). https://doi.org/10.1002/14651858.CD010210.pub2