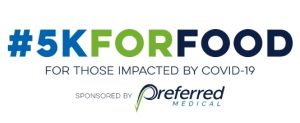 Company launches virtual 5K to address food insecurity and health impacts from COVID-19
LOUISVILLE, Ky. (June 15, 2020) – Preferred Medical, a leading pharmacy benefit manager and ancillary service partner in workers' compensation, announced a new initiative today to help foster physical and mental health while supporting those with food insecurity as a result of the COVID-19 pandemic.
A virtual 5K, walked or run at the convenience of the participant, is an emerging way to stay engaged with group exercise in this time of physical distancing. Preferred decided to leverage the technical capabilities of GoneForARun to create this fundraiser to help others. COVID-19 has created two massive issues – 40+ million newly unemployed people and shelter-in-place that impacts mental and physical health. Seeing long lines of cars to receive food assistance is as heartbreaking as the increase in calls to suicide prevention lines and the "Coronavirus 15."
#5kForFood (which will hopefully trend on social media as people register for, prepare for and participate in the event) will contribute at least $10 of the $40 registration fee directly to Feeding America's Coronavirus Response Fund. At the same time, participants will receive the benefit of exercise that aids both their physical and psychological wellbeing along with a t-shirt, medal and downloadable bib to wear during the walk/run.
"For everyone that has either heard or read my words, they know how important I feel that physical and mental health is for individuals in managing pain," said Mark Pew, Senior Vice President of Product Development and Marketing. "With the tangibly negative impacts that COVID-19 has had on health while creating an overwhelming need at community food banks, we felt compelled to do something that could have a positive impact."
The event is scheduled for June 25 through July 2, meaning that participants can choose any date or time within that timeframe to walk or run the 3.1 miles and then upload their results and pictures onto the website.
Register online at https://bit.ly/5k-For-Food. To learn more about Feeding America, go to www.feedingamerica.org/take-action/coronavirus. To learn more about Preferred Medical, go to www.ThePreferredMedical.com.