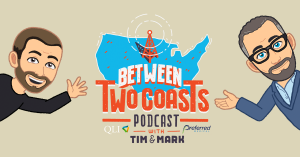 Tim Benak and I were extremely excited to have our launch – Episode 1 – of the monthly "Between Two Coasts" podcast on October 8. We are very thankful to our employers, QLI and Preferred Medical, for sponsoring our efforts. Our goal is to recreate the environment at a conference where we have informal hallway conversations with colleagues who have become friends. It is a totally unscripted conversation, including an interactive text chat with the audience.
Our first two guests, work comp icons, did not disappoint: Mark Walls of Safety National and Bob Wilson of WorkersCompensation.com. Our theme was "Routine Interruption" which could be looked at two different ways: Everyone's routine has been interrupted or everyone is routinely interrupted.
We had a technical glitch with recording the video but did capture the audio, 40+ minutes of humor, breadth and depth. In addition to our official logo, we also received a "house warming gift" from WorkersCompensation.com of a hype video.
We covered a lot of ground during the discussion …
Bob said he missed his "family" on the road and Mark said he missed learning from the casual conversations. Interestingly, neither really missed the travel (yet). Unsurprisingly, all of us agreed on each of those points, as did many in the audience (Don Terry commented, "Without travel & conferences the serendipity of running into folks will never happen. I pine for the days of bumping into …").
Donald Abrams asked "What will be the NEW NORMAL" and there really wasn't a consensus. Mark did mention that everyone is learning how to do business without travel (now and maybe budgetary adjustments into the future) and Bob said that lockdowns would have had a much bigger impact a decade ago (thanks, Zoom). Mark said that conferences will need to reinvent themselves and Bob said his big key to getting back on the road is when the competition does. Both were confident that vendors would show up but neither were sure that buyers / clients would (which creates a real conundrum for the vendors who have to justify ROI). How to monetize a virtual environment is still very much TBD as Bob observed that "price and quality are not related."
Mark offered an interesting follow-up: What is the value of networking alone? Is it worth the cost of travel? That is definitely something our industry is going to find out in 2021. While networking at virtual conferences has been okay (some have been really good and others quite the opposite), it is difficult to replicate that without in-person contact. Will that be enough to justify CEOs and CFOs giving up their current $0.00 budget line item for travel and entertainment?
It was agreed that public entities and regulators are going to be most impacted by travel restrictions due to the tax revenue / economic fallout of COVID-19 lockdowns. Jeff Rush commented "For those in the public sector, travel/education budgets will be much lower and in some cases, they will be eliminated for a time." Bob and Mark agreed. Abbie Hudgens added that "It is not so much the money as the risk avoidance issue." Conferences that count on them attending or sponsoring are going to have to rethink their platform – including maybe staying virtual and free.
Speaking of regulators, this was an interesting comment from Peter Strauss: "When legislative sessions open up, it will be very interesting to see how they handle their sessions. Every year in every capitol, the 'capitol crud' goes around anyway. How are legislatures going to handle meetings and lobbying?"  I guess we'll soon find out.
The good news is there is good news. Bob mentioned SAWCA as an example that had much higher attendance virtually as opposed to historical in-person gatherings, which indicates the lack of travel time/cost expanded the audience. Mark used RIMS as an example of a bifurcated model – part in-person, part virtual – but of course the in-person is totally subject to the COVID-19 circumstances in April. Both agreed there is value in branding but how that value is delivered (and at what price) is something the conference industry is going to have to re-imagine.
More good news is that companies are figuring out how to address isolation in a WFH (work from home) environment. Bob said they've had better communication during the ten weeks of stay-at-home than previously at their office. In fact, the entire industry has demonstrated that work can still be done – and this historically slowly evolving industry moved at lightning speed to make that happen. However, Mark expressed concerns about the long-term negative impact by everybody remaining WFH, from social isolation and staff wellness to the loss of collaboration. Tom Glasson noted that "Employers should increase communication to the field, encourage employees to find ways to give back to their community, and support employees financially that do that."
Their final words of wisdom summed it up quite nicely:
Bob: "Life is going to be normal again; we will be fine."
Mark: "Take care of yourself, take PTO, because nobody cares about you more than you."
Tim and I are looking forward to Episode 2, scheduled for November 12 at 11:30am ET. Our guests will be Becky Curtis and Dr. Geralyn Datz with a theme of "Staying Sane in Pain." Please register and join us. And mark your calendar for the second Thursday of every month for future episodes!
Mark Pew, The RxProfessor, Educator and Agitator