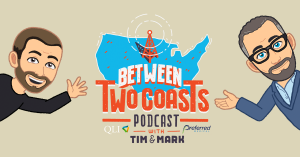 Originally published on WorkersCompensation.com's Experts View on December 3, 2020
Tim Benak (QLI) and I hosted Episode 2 of our Between Two Coasts podcast on November 24. Our guests were Becky Curtis of Take Courage Coaching and Dr. Geralyn Datz of Southern Behavioral Medicine Associates. They both help people, including injured workers, find the best way to manage chronic pain (Becky herself is in chronic pain). We've both known both of them for several years and have had many casual and professional conversations at conferences, at meals, even on airplanes. The audience was again very engaged in the Zoom chat feature and provided some great insights. All of that means this group was perfectly suited to our B2C theme of a virtual reenactment of what we've all done pre-COVID in conference hallways.
In case you missed it, you can watch the recording on our YouTube channel.
The question we started with was about the loneliness epidemic that was here before COVID-19 but has been exacerbated since March. Former U.S. Surgeon General Dr. Vivek Murthy identified loneliness and isolation as a public health crisis. CIGNA conducted a study this year that found 61 percent of those surveyed are lonely. Here are some more resources with self-explanatory titles:
Dr. Datz was in Washington DC on February 29 when a colleague of hers predicted there would be no more handshakes or church – he was quickly proven right. Technology fueled the original loneliness epidemic but social (really, physical) distancing has made it much worse. "Work is a huge social facilitator" and when that goes away (thru either unemployment or work-from-home) people lose their sense of value, purpose and worth. Fear compounds that.
Becky opined that fear is possibly the most damaging component of this entire scenario because of how it effects attitudes and the immune system. Her newsfeed is filled with people having anxiety attacks and exhibiting signs of depression. As bad as 2020 has been, it is not the first year with challenges. Indeed, 2020 has had some positives. The audience chimed in with some of their own "what went right this year" moments:
I have a beautiful new granddaughter! And we got a dog because we are home so much and he is WONDERFUL.
Since I have been wfh since March 1, I've been able to spend lots of time with my aging schnauzers.
New job!!
Moving to remote work eliminated 2 hours of daily commute time & is now replaced with more quality time with my family.
I received a new COVID Dalmatian puppy! Definitely helped with loneliness!
We all need to accept that 2020 was not the best of years. At the same time, we have to accept that for all our issues, we have lots to celebrate. We ALL know how to use technology so much better. Consider how much tougher it would have been to deal with the 2020 issues only a few years ago, when we were charged per minute for long distance telephone calls, let alone the ability to see people and talk to them.
I agree that the pandemic and related isolation has presented an opportunity for self-reflection with another reminder that nothing should be taken for granted.
2020 was supposed to be the year that I got everything I wanted but it became the year where I appreciate everything I have.
Geralyn observed that most chronic pain patients have something in addition to the pain (obesity, diabetes, hypertension) so they are – real and perceived – at a higher risk. One of the huge unexpected benefits of all this has been a higher focus on self-management. That is always a goal for a treatment provider, but when the patient is desperate and alone they appear to be more willing to try harder at doing what they can on their own. "I'm seeing a lot of people surviving and learning how independent they can become" – very much a positive for the long-term.
Becky then addressed the concept of "cognitive reframing." Her team doesn't ask the standard "rate your pain" question to patients because it places the focus where it should not be – on the pain. Instead, they ask "what is going well." That twist usually stumps them until they learn to frame their life on what's good, not what's bad.
I then shared the lyrics to Lauren Alaina's song "Getting Good" that addresses the concept of not worrying about what you don't have but learning that "once I learn to soak up every moment I'll realize my life's already good." If you focus too much on the What If of the future, you can lose sight of the blessings you have right now. Geralyn observed that the perpetual dissatisfaction in the first part of the song is the antithesis of being in the moment – the acceptance of right now, even with its irregularities. Slowing down and enjoying the moment is key. Becky then brought up Martin Seligman and his "hunt for the good" to think about what's right in our lives right now.
In summary, Becky said she wanted everyone to focus on giving hope to people that are struggling. And to switch our paradigm from the medical model ("somebody will help you") or self-management model ("you're on your own") to a "do it with you" model. Tim added that today's virtual technology makes it easier to reach out to people – including family – that are struggling and offer the support they need.
Geralyn reiterated two phrases she uses with her patients: "Self-care is healthcare" (the best healthcare comes from your own initiatives) and "mental health is physical health" (when your mind is well it has positive effects for your body).
Mark Pew, The RxProfessor, Educator and Agitator