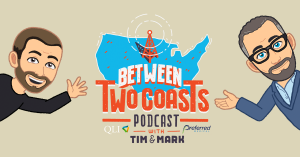 Tim Benak (QLI) and I hosted Episode 3 of our Between Two Coasts podcast on December 19. Our guests were Rafael Gonzalez of Cattie & Gonzalez and Claire Muselman of Continental Western Group. Our theme was "Having Fun in a Suit" and they both epitomize what that means. They take their jobs very seriously (and they are very good at their job) but they also know how to engage people with their feelings, usually by laughter. If you've known either of them for five minutes, it seems like you've known them for five decades. All of that was on display during our session.
In case you missed it, you can watch the recording on our YouTube channel.
Conferences are often fun – getting to go to unique places, try different foods, laugh at jokes and eye rolls at puns, talk business and pleasure, catch-up on personal lives. It also includes getting new clients, identifying trends, getting educated, and expanding the rolodex. But that wasn't really the focus of this conversation.
We started with this opening question: "Both of you have talked often about Work Comp being a family. It includes people of different backgrounds and passions. Sometimes it includes colleagues and at other times competitors. Time we spend together can be serious or fun, often in the same conversation. But in many cases, especially with you two, it becomes friendships. Why is that?"
For Rafael, it is that Work Comp brings together all components of professional life (social factors, finance, medical, legal) and a lot of experts and professionals to all work together for a common goal – to help the injured worker. The dedication to that is the glue that makes the process/system better. "I am so blessed to have so many people that want to do good work."
For Claire, "authenticity is the way that common goal is achieved." There is typically a disconnect between work and personal life in other industries, but not so here. The human connection used to help an injured worker through maybe the most challenging time of their life is also applied to our work relationships as everyone strives to do better.
Both Rafael and Claire can identify with how important family is. Rafael's mother gave up everything and everyone she knew in Cuba to emigrate to the U.S. so he knows what it is like to be in a brand new situation. Claire was adopted out of the foster care system and so she realizes what it's like to not belong and, alternatively, to belong. Those perspectives are applicable to injured workers suddenly thrust into a murky present and future and enveloped by a system that is confusing and where they seemingly have little control. They often just want to know somebody cares and that they have been seen, heard and acknowledged.
Because of the familial type relationships built throughout the industry, people aren't required to always have their "game face" on. Instead, just like in families, you can make forward progress by being yourself. Granted, not everybody has that attitude, but people that do often gravitate to others with a similar approach to work and life, whether as co-workers or vendor partners. Successful people in Work Comp are focused on a win-win scenario.
Both Rafael and Claire agreed that we wouldn't be having this kind of discussion 30 years ago, or even five years ago. Back then, it was professional all of the time – limited disclosure of the real you in a workplace setting. There are still some people operating by that premise, but it has been proven true that you can do better when all of you is in it. The timing of this Transition is perfect because the incoming generations expect that kind of shared goal and purpose-driven approach to work. They do not want to turn work and personal on / off like a light switch. They want passion and purpose, whether it be at home or the office. Going forward, authenticity in a work environment is likely going to be a prerequisite to success.
One of the challenges, however, at industry gatherings is how people that have built that kind of relationship over time always gravitate to one another in cliques or pods. While it's fun within the group, it can easily exclude those that want to be in the group. That is why it is incumbent on everyone in the industry to find a mentee ("shame on you if you're not grooming people") and to actively ensure people are engaged. Instead of the Thanksgiving family gathering where you can have an "adult" and "kids" table, Work Comp needs to foster a table big enough for everyone and a thoughtful way of adding chairs. Claire offered this unique challenge – 52 cups of coffee, a weekly 30-minute Zoom call … and not always with the same people – as a way to make that happen.
To sum up, Rafael will continue to advocate to the entire industry that we can do our job with heart. Claire affirmed that every single person has the power to change the industry. In both cases, it starts with individual interactions with all of the stakeholders. It is fun to make good things happen for others.
Episode 4 of Between Two Coasts is scheduled for January 14 at 11:30am ET. The theme will be "COVID Conferences" and include Julie Fetherman (WCI) and Wendy Gerdes (CMSA-OK). Click here to register.
Mark Pew, The RxProfessor, Educator and Agitator